Leap right into even more options with our PLUS recipes, where variety comes to party hard!
Featuring new cuts of meat, yummy fish and extra ingredients, plus extra-speedy options, these dishes bring plenty of new ultra-tasty choices to the weekly menu!
Protein variety
Fancy digging into dinners made with barramundi, prawns, salmon fillets, beef rump, rump steak, or pork fillet? Our PLUS recipes offer even more protein choices for extra variety – think Roasted Beef Rump Cap and Chunky Salsa; Caribbean Barramundi Tacos; or Thai Pork Fillet and Zingy Noodle Salad.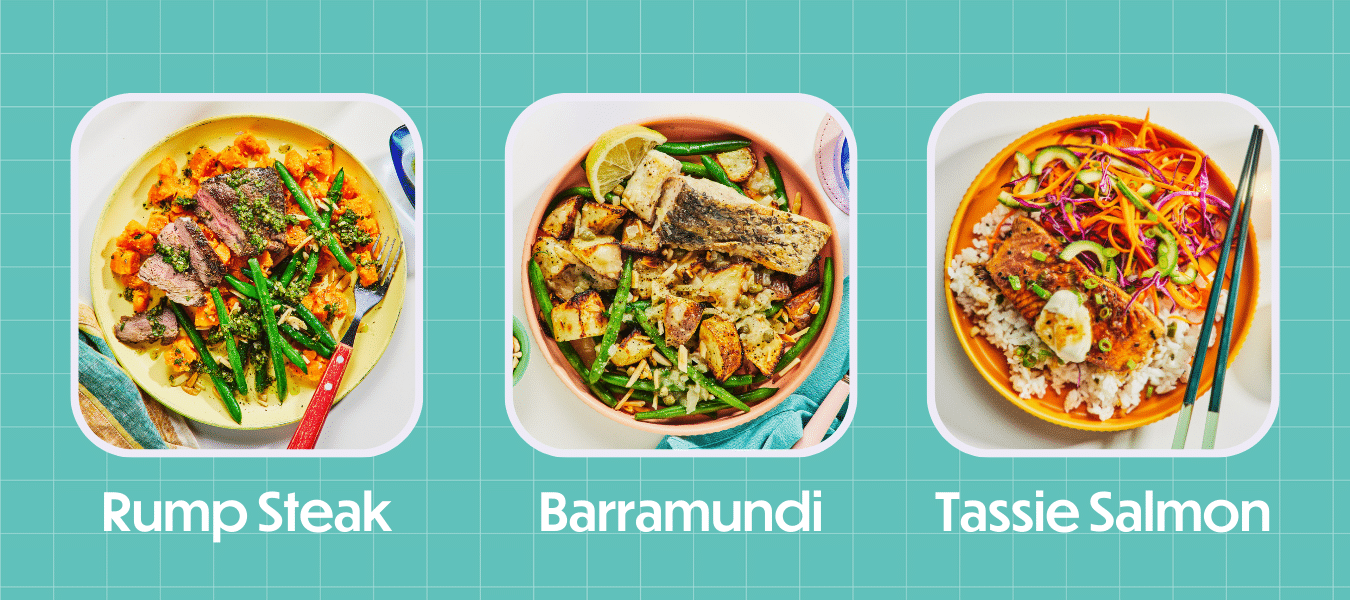 Speedy options
When you need meals ready faster than you can holler out "dinnertime!", it's time to speed it up with our 15-minute recipes. That includes the likes of 15-Min Smoky Barbecue Pork Nachos; 15-Min Golden Chicken Curry; and 15-Min Mongolian Beef and Noodles.
Extra choices
Our PLUS recipes also feature special ingredients that aren't used in core menu recipes, and include our Feed A Crowd recipes and Slow Cooker XL recipes for extra options that feed more diners.
So that we can keep bringing even more of these yummy choices your way, our PLUS recipes are priced differently to our regular, core menu. They're clearly marked with a 'PLUS' badge on each recipe image when you're exploring the menu.
---
PLUS Recipes Frequently Asked Questions:
What are PLUS recipes?
Our PLUS recipes are a special range of recipes that offer you even more yummy variety every week. These include extra protein options, like pork fillets, salmon fillets and beef rump; 15-minute recipes; Feed A Crowd recipes; and Slow Cooker XL recipes. PLUS recipes are priced differently than our core menu.
Why are PLUS recipes priced differently?
Our PLUS recipes are priced differently than our core menu in order to make sure we can keep bringing you even more variety every week. These recipes feature special proteins (like beef rump, pork fillet and salmon); extra ingredients; or pre-chopped, pre-cooked ingredients and other convenience items which do cost a little more and ensure that you get to spend less time in the kitchen. You can add a PLUS recipe to your weekly order from an extra $0.49 per portion, compared to our core menu; all different pricing is listed as a per portion cost under each PLUS recipe image on the menu.
How do I know if a recipe is part of the PLUS menu?
When exploring the weekly menu, you'll find PLUS recipes marked with a 'PLUS' badge on the recipe image.
If you have any further questions regarding our PLUS recipes range, please reach out to our customer care team by sending us an email to hi@dinnerly.com.au