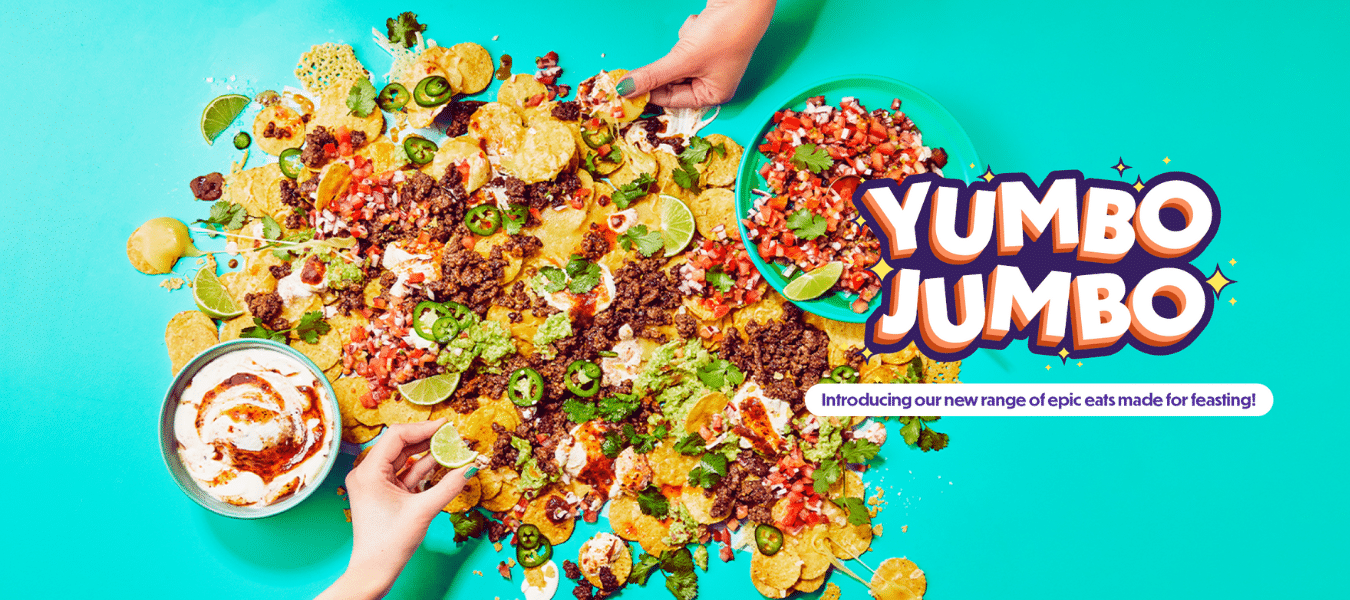 We're so excited to introduce you to our new Yumbo Jumbo recipes, dishing out mega portions of maxed-up meals packed with our most scrummy, over-the-top tastes yet!
Every month, we'll have a new limited-time Yumbo Jumbo recipe available for two weeks only. You'll need to get in fast and add them to your orders quick-smart so you don't get FOMO!
First up, we've got our Yumbo Jumbo Beef Nacho-Guac-Salsa Table delivering on the weeks commencing October 16th and October 23rd only. These next-level nachos take a ginormous base of corn chips and top it with ALL the good stuff: melted cheddar, saucy chipotle beef, smashed avo, jalapeño salsa, punchy pico de gallo and cooling yoghurt. Clear off the table, throw down a board or baking paper, layer it all up, then dig in!
How do you find our Yumbo Jumbo recipes? Easy peasy. You can't miss 'em on our menu: the recipe pics sing out loud with neon colours and mega portions, plus 'Yumbo Jumbo' will be in the recipe title. These recipes are priced differently to our core menu dishes, so you'll also see them marked with a 'PLUS' badge on the recipe photo.
So what's coming next for our Yumbo Jumbo recipes? You'll have to keep an eye on our menu each month!